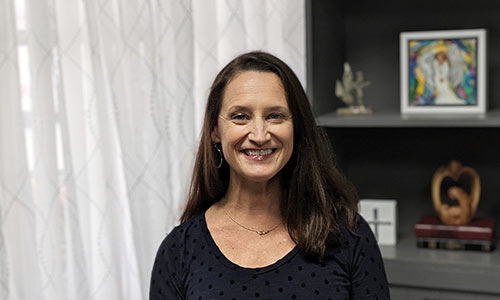 Associate Pastor
Ashley is the Associate Pastor and has been connected with Cokesbury her entire life, though! Starting off in the fabulous Cokesbury Children's Center pre-school, Ashley grew up in the Cokesbury congregation and learned from them that God loves every single person and that God calls each one of us to service in God's world.
A graduate of Birmingham-Southern College and Duke Divinity School, Ashley thrives in opportunities to connect with people and learn from them. One of her most formative life experiences was serving in Bethlehem as a Young Adult Missionary with UMC Global Ministries. There, she learned about justice, peacemaking, and the power of God's grace and love to transform entire communities, even in the most difficult of circumstances. She loves being involved in the challenging and holy work of engaging and empowering individuals and the wider community to be all that God creates and calls us to be – God's people who genuinely care for one another and God's creation. Micah 6:8, along with the Greatest Commandment, are two of the scriptures that guide Ashley in her life and ministry:
"[God] has told you, O mortal, what is good; and what does the Lord require of you but to do justice, and to love kindness, and to walk humbly with your God?" – Micah 6:8
"You shall love the Lord your God with all your heart, and with all your soul, and with all your strength, and with all your mind; and your neighbor as yourself." – Luke 10:27
Ashley is married to Chris, and they are continually trying to keep up with their two sweet and sassy kids. Ashley loves running, dark chocolate, impromptu dance parties with her kiddos (or really anywhere), and time at the beach. She is also passionate about baby Yoda, dresses with pockets, the color teal, and the grace-filled theology of Daniel Tiger's Neighborhood.